Mile High View of Ski Bowl Village Locale

Here is a view of Ski Bowl Village, the town of North Creek and Gore Mountain literally from one mile high. The aerial imagery used in this view captures the latest trails that fully connect the North Creek Ski Bowl with the rest of Gore Mountain. Stay tuned, more trails are in the pipeline and will be developed next year!

Outlined in red is the 430 acre Ski Bowl Village site and traced thereon are the roads in this phase of the buildout. The blue lines show ski lift lines and the white lines the trails that form the Gore-Ski Bowl Interconnect.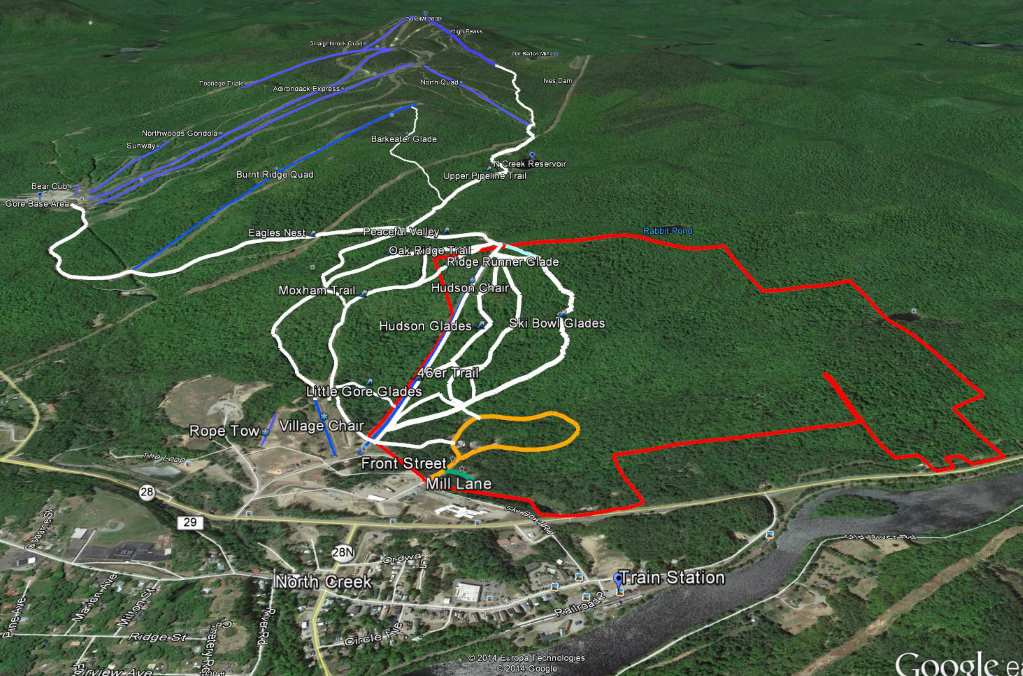 If you would like to view the placemarks shown above in your own Google Earth My Places folder, please double click on the Gore MtnProject.kmz file below. It is a small 118KB download that will automatically open your copy of Google Earth and put the placemarks in your Temporary Places folder. Be sure to save the file to My Places before exiting Google Earth.

If you do not have Google Earth installed on your computer, it is available for free at the Google download site here. It works with all operating systems. You may wish to deselect the invitation to simultaneously download the Chrome web browser.
Gore MtnProject.kmz